Here are some ways that help is needed on our clinic days.  If any of these areas interest you, please be in touch with us at cancerdemamaclinic@yahoo.ca or contact us here.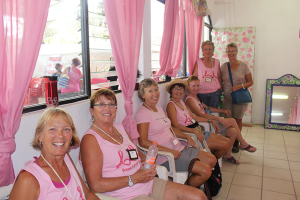 Fitters and Runners
The Fitters and Runners work 'hands-on' with the ladies, making sure that each one is correctly fitted with a breast prosthetic and bra.
Storeroom and Bra Sorting
This department handles the sorting and sizing of all the Clinic donations. During the Clinic hours, these volunteers distribute the prosthetics and bras to the Runners.
La Tienda
This is a little 'store", where the ladies can shop at extremely low prices, choosing from a wide assortment of clothes, lingerie, costume jewelry and other items which have been donated to the Cancer de Mama Clinic.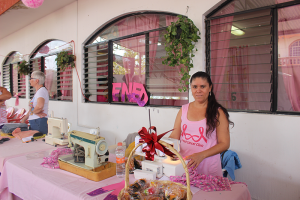 Sewing Group
Our Sewers create small cotton inserts which are used to convert regular bras into prosthetic bras. At times they also modify prosthetic bras, as well as sew headgear for the ladies.
Kitchen Duties
A day at the Clinic can be a long one, with many hours spent waiting. Each lady is provided with a healthy lunch.
Hat Shack
The Hat Shack volunteers look after distributing wigs, hats and scarves for the Clinic ladies. They also take time to assist the ladies with hand massages and make-up applications whenever supplies allow.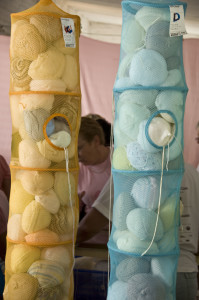 Tit Bits
Other volunteers create Tit Bits, hand knitted 'breasts' which need to be stuffed with a soft filling. Tit Bits are used in place of a prosthetic when a lightweight, cooler product is needed.
Wigs and Makeup
In this department, wigs are available for ladies who've lost their hair during chemotherapy. Hand massages are provided and whenever supplies allow, ladies can have a lovely new makeup application.
Correspondence
Once the Clinic is over, volunteers are needed to write thank you notes to donors.
Spreadsheets and Data Collection
Volunteers with computer experience are helpful in working with spreadsheets and data collection to track our supplies and to monitor the donations given to the clinic recipients.
---